Race: St Andrews Splash 'n' Dash
Distance: 4.5 miles
Date: Saturday 21st July
Supporting Runners: Jemma Love
Fundraising to date: £4,406
Finishing Time: 0:46:07
Memories
3 years ago, I was on the way to work on a Monday morn when Adam called to ask me if I wanted to go to St Andrews the following day to watch the golfers on one of their practice days for The Open.
Errrrrm no.
It was in July but it was so miserable – nothing like the July we have just had. And what kind of impulsive person did he think I was, dropping everything and going to Scotland?!
I said I would see if I could get the next day off work but it was really unlikely… Lies.
I phoned him back at lunch to break the fake news that I couldn't get the day off…
Well he sounded so disappointed it was horrible. Just a simple "oh right OK, never mind"  and I just thought: WTF am I doing. My brother loves golf so much and really wants to do this and, lets face it, I was likely his last resort and therefore being the final blocker to ruin this chance.
I hung up and turned to my manager to actually ask about getting the day off – and with a simple 'yes that's fine', I knew I would be spending the day in drizzly Scotland traipsing after golfers for a day. Joy.
WELL – I had an absolutely great time and so did Adam. We spent the day Brother and Sister, talking rubbish and childhood memories and generally just having a laugh. We always got on well (maybe apart from the sibling bickering age around high school time) and we saw each other all the time, joined each other on odd nights out etc – but spending the whole day doing an activity was rare.
The Open, St Andrews 2015
The point I am trying to make… I now have that memory with me forever. A day I'll never forget and a day I knew Adam loved too. One that I was going to pass up because I quite simply couldn't be arsed…
Sounds so cliché, but making memories in life is so important. It is easy to pass on something because it isn't your thing – or you just don't want to do it. And I get that 'life is too short to do stuff you don't want to do'. But what if doing something makes someone close to you happy? And spending time with them and seeing them happy, ultimately makes you happy – and then that thing becomes something you enjoy too?
This is getting soppy but I am sure you get what I am trying to say…
So the golf, and The Open is now my thing – an activity I never thought I would enjoy but a memory that I have now built on.
Adam and I planned to go to Troon in 2016 for The Open again – we were in discussions planning it when the worst thing happened.
That year, my friends came along with me and we had a blast. The same trip, with a different experience. (🍺🍺🍺)
The Open, Troon 2016
---
The idea…
There were no plans to go to The Open again in 2018. Until I received a marketing email with a 'limited tickets left' message or similar. For someone who works in Marketing, I am quite the marketers dream. The email got me and I had an idea 💡
How can we work this into 30for30? I searched for races and I honestly don't know how this all fell into place so perfectly – but there was a 4mile race along the beach at St Andrews, the weekend of The Open that was taking place in Carnoustie just a 30min train journey away.
I emailed Jemma who surely you recognise from multiple blog entries? She often says yes to random plans, hence how she's ended up doing 20for30…more the impulsive type than me.
After about 5mins of not replying, I just walked over to her desk and asked her to read my email. She text her husband, Duncan/Marv, who is a fan of the golf, and just like that – we were in! I booked the tickets before they could change their mind.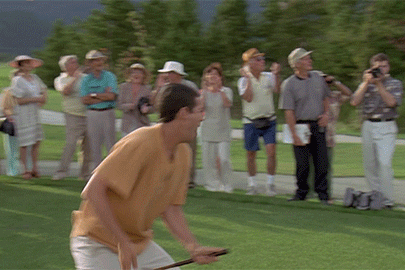 ---
Race Number 23
We arrived in St Andrews on the Saturday afternoon to an Airbnb that we booked after a few drinks one night…. I think at some point, everyone's stayed somewhere where the first comment on it is: "well we won't be in it that much anyway…" so I guess that sets the standard of where we were at..
The race was on that first evening – a nice run along the beach and in the sea. After a quick beer in the local as pre-race prep, we headed to the beach. We had to drive across the 18th hole of St Andrews golf course to get to the race start – I hadn't realised it was that close to the good memories at The Old Course – Amazing.
Waiting to cross the 18th hole at the Old Course
We didn't really know what to expect – and Jemma was making her big comeback after some injury timeout. Probably not the best terrain to come back to, running on sand and all that…
We learned that it was 2 laps of 2miles – both laps ending with a dip in the sea. We agreed that perhaps Jemma would just do the one lap to go easy on the injury.
Theres something about running on the beach by the sea that was quite liberating. A different kind of setting and not what we are used to. It was lovely.
We later found out that this is the exact location where they filmed 'Chariots of fire' – so to save myself explaining any more of what it was like, this is basically us:
And some nice photos courtesy of Marv and his iPhone X:
We then spent as little time at the infamous Airbnb as possible and headed straight back out to eat incredible food, meet fellow golfing fans and dance all night at my first ever Scottish ceilidh. We ended the night what only felt like trespassing on the 18th hole (it seemed very open to the public so who knows). We had a little photoshoot on the famous Swilken Bridge. If you know, you know:
Adam on the Swilken Bridge in the 90s 😎
---
The 147th Open, Carnoustie
Doing this race and then going to The Open for the final day was just the perfect thing to tie in to the whole 30for30 challenge.
This big thing, for me, has become so much more than just running miles and raising money. I have spent time doing things I never would have done with lots of different people – making memories.
I was going to write all about our day at the golf: from introducing Marv to memes, sinking pints after pints, eating fish chips fish chips fish chips, and having a nap on the 15th whilst Tiger was teeing off… Theres loads I can go on about, but they are all new memories I now have with 2 great friends.
Yes I thought about Adam whilst I was there and commented on stuff with Jemma and Marv – but the experience as a whole was a different day, not one to compare to The Open with Adam or the one with my girl friends – but a new memory, and another I won't forget. ❤️
This slideshow requires JavaScript.
The trip that keeps on giving… A few days after, 'The Open' messaged me on Instagram to say that I had won a signed Rickie Fowler hat as part of a competition. All I did was tag Jemma in something as a bit of a joke… The hat is now hung up in my spare room with the Happy Gilmore poster 😍
---
So, I am sorry if I have made you feel a little queasy with my making memories advice. What I am trying to say – is to not hold back and not do things because it is outside of your comfort zone. Who'd have thought that 3 years ago when I answered that call to Adam that going to The Open would become one of my fave things to do and a memory that I would cherish forever.
Golf chicks
What's next? 
We are fast approaching the end of 30for30. This Saturday I am taking part in a Tough Mudder 5k – following that Mr Chips will be doing his Dog Jog a week on Saturday…
I have one more Sale Sizzler to do next Thursday and a blog about the full series will follow.
If you would like to sponsor then please do so here: https://uk.virginmoneygiving.com/EmmaBramwell2 ❤️
We are so very close to the fundraising target!