Race: Tough Mudder 5k
Distance: 5km
Date: Saturday 11th August
Supporting Runners: Rebecca Hall, Tom Kharchi, Stephen Banks, David Macdougall, Peter Jones, Sarah Ferris-Jones, Dan Rogers, Samantha Rogers
Fundraising to date: £4,431
Finishing Time: ???
Last Saturday, I participated in the first race of the 30for30 challenge that wasn't just running… and quickly found out that my upper body strength is pretty terrible.
Those that have heard of Tough Mudder may already know about the gruelling obstacles people face when they put themselves through the full 11 mile course: from underwater crawls to electrocutions..oh and mud.. Lots and lots of mud.
But not this one! This was 'Tough Mudder's younger cousin in the city' (their words not mine) – and it was just enough for me.
A 'friendly' introduction you could call it.
Instead of 11miles it was 5k – instead of 20+ disgusting obstacles, there were 10 kinda OK ones. Instead of sloppy mud, there was a bit of hay and grass (yay to carpet burns).
My well-organised colleague, Peter, put forward the idea a few months ago when you could get early-bird pricing at the bargain price of £35 🙄 He must have caught us all just after payday as there were a bunch of us pretty keen to sign up…
I knew that in August I should be tailing off the long distance races and upping the marathon training at weekends instead – so this race seemed like the perfect fit for race number 24.
The event itself was being held in Heaton Park and we had the nice mid-morning time slot of 10:20am. We all met at the registration point and for once it was Mum and Andy who were running late and left me stressing on where on earth I was going to put my things and who was going to get some pics for the blog?!
They made it in the nick of time to witness our warm up and 'Tough Mudder pledge':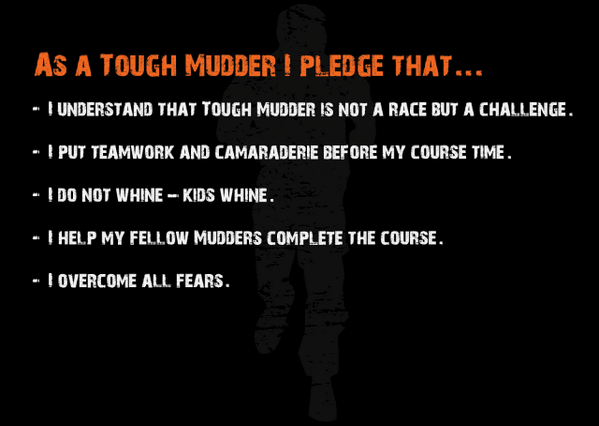 Away we went and before I could even think of some cringe team chants, we were at obstacle number one – a cargo net to army crawl underneath. It sounds so simple but have you tried army crawling recently? I wasn't very good at it and my arms still hurt now.
The second obstacle was one called "The giant A-hole" – I've met many of them in my life but this one was by far the worst.
I always seem to forget that I am scared of heights until I am stuck somewhere really high up. This obstacle kind of reminded me of this one time we went to Go Ape for a work social. I didn't listen to the safety instructions very well and raced to the top where I suddenly realised I didn't like it and started crying (lol). I soon got used to it and was OK, but the same thing nearly happened on this giant a-hole. Luckily for everyone around me, I didn't have a panic attack but it knocked it into me on obstacle 2/10 that this wasn't going to be as easy as I thought…
It was higher than it looks OK..
I don't have pictures of all of the obstacles or stories to tell on each – it was just about running between them and getting through/over them together as a team.
Hero walls
Mudder wheelbarrow
Clean and jerk
Bale bonds
Devils beard
To name a few…
This slideshow requires JavaScript.
Some highlights:
A man that decided to try and get away with doing the course for free who got caught without a wristband and chased under an obstacle. Such a great guy.
Launching myself over a hay bail
Being carried in a weird bodybag type thing and being thrown in the air a few times
The wheelbarrow race obstacle – simple yet effective
Tom clambering feet first over one of the high walls
Getting to the top of the 2 grand finalé obstacles with everyone
My upper body strength skills on the tarzan bit:
The final 2 obstacles looked quite daunting – I fell on something quite similar when I was a teenager and smashed a front tooth, so I wasn't looking forward to them to say the least. You basically had to 'run as fast as you can' up a nearly vertical slope and hope for the best.
Elegant I am sure that you will agree:
And here's some pics of us all scrambling to the top of the final obstacle, Everest:
This slideshow requires JavaScript.
It was great to finish together as a team, and get through the race not worrying about time or pace or where anyone else was, but just helping each other through it. Some races I have done recently have been lonely and long, so this was a great one to do.
So, well done to team Interact and the wives! I know it is something we probably would have done anyway, but thank you for being a part of the 30for30 memories and challenge. I had a great time. Full tough mudder next year?! 😏
---
Would recommend this race for anyone that wants to do an obstacle one but without the distance. A lot of effort goes into organising it – free beer and stuff at the end and other little challenges for those that don't feel like the 5k is enough… ahem Dan:
---
What next?
Later that day, I went home to say hello to Mr Chips and remind him that this Saturday it is his turn to step up to the mark and do his bit for 30for30 with the 5k dog jog. We did our final bits of training – look how happy he is about it:
To sponsor a doggo (or anyone who did the 5k tough mudder! 💪) please visit: https://uk.virginmoneygiving.com/EmmaBramwell2